Roll over image to zoom in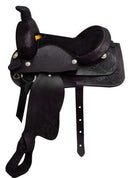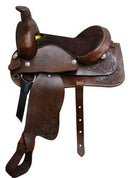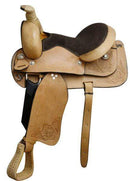 Description
No additional shipping charges added!
This 15" roper style saddle features smooth leather finish with a suede leather seat and leather wrapped horn.  The skirts and fenders are accented with a tooled flower.  This saddle comes with a nylon tie strap, leather off billet, and flank strap.  Made by Buffalo Saddlery.
**Not warrantied for roping**
Features:
Tree:  Rawhide Covered Wood
Bars: 

Semi

Quarter Horse
Swell:  13"
Gullet:  6.5"
Horn:  3.25"
Cantle:  4"
Skirts:  10.5" x 25"

Stirrup Adjustment:  26" to 32"  **additional holes can be added to stirrup leathers**
Note:  Drop shipped saddles are shipped directly to you from the manufacturer!  The manufacturer usually ships IN STOCK saddles within 3 to 4 business days!
Payment & Security
Your payment information is processed securely. We do not store credit card details nor have access to your credit card information.