Roll over image to zoom in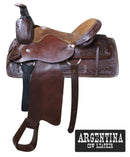 Description
No additional shipping charges added!
This 16" Argentina cow leather roper style saddle features basket weave and floral tooling on the skirts, pommel and cantle with smooth leather fenders and jockeys.  This saddle also has a suede leather seat with wrapped horn.  This saddle comes with a nylon tie strap, leather off billet, and front D riggings and back straps.  Made by Buffalo Saddlery.
**Not warrantied for roping**
Features:
Tree:  Rawhide Covered Wood
Bars: 

Semi

Quarter Horse
Swell:  12"
Gullet:  6.5"
Horn:  3.5"
Cantle:  3.5"
Skirts:  13.5" x 27.5"

Stirrup Adjustment:  33" to 36"  **additional holes can be added to stirrup leathers**
Note:  Drop shipped saddles are shipped directly to you from the manufacturer!  The manufacturer usually ships IN STOCK saddles within 3 to 4 business days!
Payment & Security
Your payment information is processed securely. We do not store credit card details nor have access to your credit card information.