Roll over image to zoom in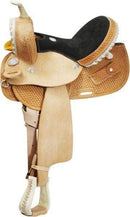 Description
No additional shipping charges added!

This round skirted barrel saddle features basket weave tooling with rough out jockeys and fenders with silver wrapped rawhide braided cantle, gullet, and horn, along with rawhide stirrups. This saddle comes light oiled with a suede leather seat, hoof pick keeper, and silver hardware and comes complete with latigo tie strap and off billet.  Made by Circle S Saddlery.
Features:
Tree:  Bull Hide Covered Wood
Bars: 

Semi

Quarter Horse
Swell:  13"
Gullet:  6.5"
Horn:  3"
Cantle:  5"
Skirts:  13" - 22.5", 14" - 23", 15" - 24.5" Rounded

Stirrup Adjustment:  13" - 27" to 31", 14" - 30" to 34", 15" - 30" to 34"  **additional holes can be added to stirrup leathers**
Note:  Drop shipped saddles are shipped directly to you from the manufacturer!  The manufacturer usually ships IN STOCK saddles within 3 to 4 business days!
Payment & Security
Your payment information is processed securely. We do not store credit card details nor have access to your credit card information.